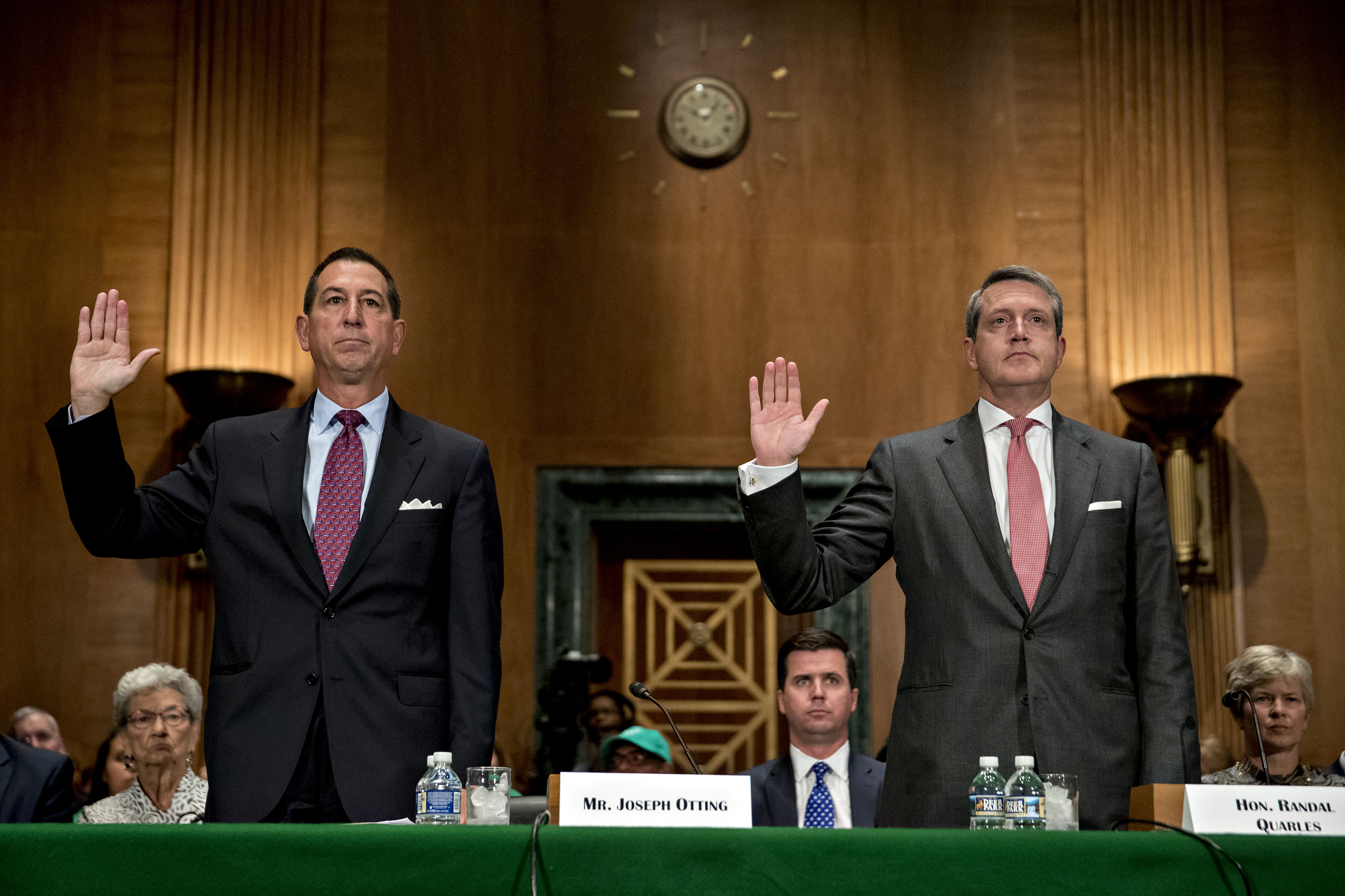 ---
WASHINGTON — Nearly a year after taking office, President Trump stands on the precipice of having stocked the leadership positions of each of the federal banking regulators with his nominees, a first step toward enacting the deregulatory agenda he promised during his campaign.
The unexpected — if not wholly unanticipated —
departure
of former Consumer Financial Protection Bureau Director Richard Cordray over Thanksgiving weekend spurred Trump to install the White House Office of Management and Budget director, Mick Mulvaney, as the consumer bureau's acting director. After a brief
power struggle
between Mulvaney and Cordray's hand-picked successor, Leandra English, a
judge declared
that Mulvaney was the rightful head of the agency until a permanent nominee was installed.
The following week, Trump
tapped
Fifth Third Bank's chief legal officer Jelena McWilliams to head the Federal Deposit Insurance Corp., ending months of speculation about who the president's choice would be to succeed Martin Gruenberg, whose term expired last month.
Unlike most executive departments, the regulators who oversee the financial system tend to be independent executive agencies. That means that a new president has a more limited ability to replace those leaders upon assuming office, but instead will only gradually introduce their own choices over the course of the first 12-18 months.
The Trump administration did not appear to be in a hurry, however, taking a rather
deliberative approach
to filling vacancies as compared to earlier administrations. But now that the cast of agency heads has been selected, what will each of the new leaders bring to their new offices, and how will they work together?
---
FDIC chair nominee Jelena McWilliams
Jelena McWilliams, who has been serving as chief legal officer at Cincinnati-based Fifth Third Bank since January, was named to succeed Martin Gruenberg as chair of the Federal Deposit Insurance Corp. last week.
Little is known about McWilliams' policy views, but she spent six years as a Republican staffer at the Senate Banking Committee, and before that served at the Federal Reserve Board. She's been known to carry a bound version of the Dodd-Frank Act for reference.
Her appointment
raises many questions
about where she stands on certain issues, including small-dollar lending and the industrial loan company charter.
The administration had initially forwarded former House Financial Services Committee staffer James Clinger as FDIC chair, but he withdrew for personal reasons in July.